What's the key to finding your ideal prom dress size? It all comes down to matching the material, cuts, and your measurements. Whether you want a form-fitting prom dress or a figure-flattering a-line dress, to achieve your ideal look, it's important to take the time to find the right sizes of the prom dress for you! Check out the tips here on using prom dress size charts, considering prom dress lengths, and getting your dress measurements to minimize the expensive spending on alterations to your prom dress.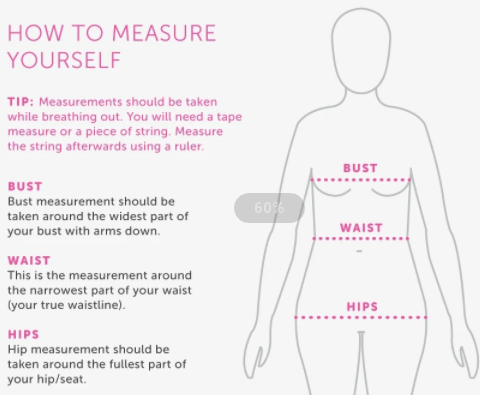 Measure your bust. 
Wrap a measuring tape around the widest part of your chest. Keep your body relaxed and do not puff your chest out.
Keep the measuring tape snug but not too tight. If you do it too tight, then you'll get the wrong measurements and your dress won't fit properly.
 Measure your waist.
 Lean-to one side (anyone) and look for the natural curvature of the waist. In that curvature, measure your waist and make sure the tape measure is a bit loose. You can also find the size of your waist by measuring 5 cm (2 inches) from your belly button.
 Measure your hips. 
Stand with your feet together. Measure around the fullest part of your hips and rear. This is typically midway between your crotch and your belly button. Again you'll want to keep the measuring tape somewhat loose so that your dress size doesn't end up being too small.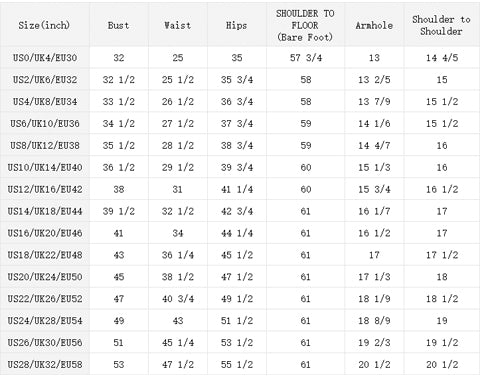 Look at a size chart. 
Keep in mind that size charts tend to be different for different stores and that even with your measurements and the size chart, you may be surprised by the wide array of sizes you will seem to fit into. However, you can use this size chart as a basic guide.
.Always choose the larger size if your measurements come between two sizes, especially if you're ordering online.
.Avoid the dress size generators, as they tend to give you the wrong sizes. Dress size generators claim to be able to tell you the size of your dress in each store (since so many stores size their women's clothing differently).
If you are looking at European sizes, you'll want to check out this chart, which converts American sizes into European sizes.
 Convert numbers to letters for sizing. 
Some stores don't use the typical 6, 8, 10, 12. Instead, they use letters like XS, S, M, etc. Fortunately, these letter sizes tend to correspond to specific numerical sizes and you can figure your size out based on that.
In American Size; Size 2 is XS, Size 4 is S, Size 6 is M, Size 8 is L, Size 10 is XL, Size 12 is XXL. This is what it usually is, although sizes may still vary depending on the store.
Although it is very rare to find a prom gown that does not require any alterations, but not impossible! We do say to try and focus on finding a dress that fits your body the way you want it to. Don't get disheartened if a dress doesn't come in your exact size. It's easy to have adjustments made by a reputable seamstress, and this will ensure that the dress is the perfect fit for you. After all, you want your prom gown to fit you like a glove!