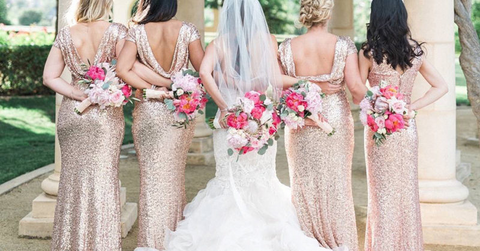 HOW TO SHOP FOR YOUR WEDDING DRESS VIRTUALLY?
      Research styles and get inspired

      Take your measurements at home

      Get ready for final tweaks
Brides face an additional challenge with navigating virtual shopping and fittings as they reschedule their weddings for 2021 or the end of 2020. In-store appointments and real-life fittings have been relegated to the realm of our collective pre-COVID past. The logistical and emotional challenges add to the anxiety and stress future brides experience as they plan for one of their most important existential milestones.
SHOPPING FOR YOUR WEDDING DRESS VIRTUALLY
The pandemic has led to a shift from reliance on in-person interactions to a virtual-based approach. Wedding vendors and special occasion boutiques used to physical fittings and alterations have found ways to help brides shop for attire at this difficult time. The situation is not without good news: brides can keep planning their attire, albeit from the safety of their homes. If your wedding is coming up, you can shop for a wedding gown virtually until storefronts open up for business.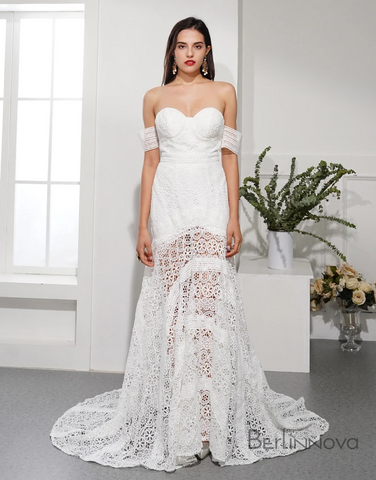 Style BLN03002395
BE INSPIRED
The virtual quest for the perfect wedding dress starts with choosing the style that's right for you. In this section, we'll discuss the hottest designs and silhouettes in 2020 and beyond.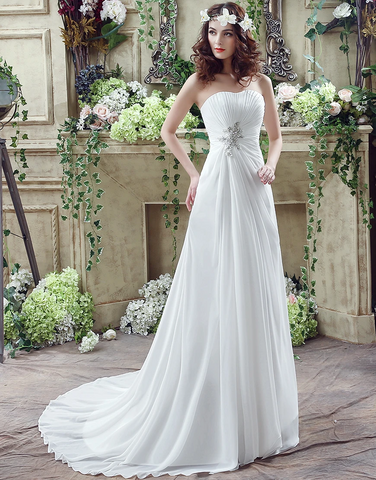 Style ALI04032472
A-LINE DRESSES
These dresses are among the most comfortable silhouettes out there. You can opt for a formal gown that draws attention to the torso and flows down loosely or a dress that nips in at the waist, attracting the gaze to this dainty part of the body. This classic shape makes it possible to include details and augmentation that reflect your personal style.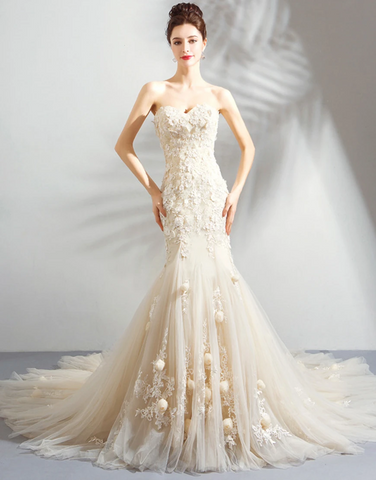 Style ALI04032413
LACE DRESSES AND GOWNS
Lace wedding gowns and dresses are a timeless classic that's not going anywhere. The feminine and delicate fabric is the quintessence of "bridal" for many. Numerous brides crave the intricacies of Alencon lace, Chantilly lace, English broderie, or guipure. No two lace wedding dresses are exactly alike. Some gowns are trimmed with this delicate fabric, while others feature a lace design all over. Still others feature classy lace accents. Silhouette options range from mermaid to sheath or column. Necklines vary from strapless to off-shoulder. Styles include modern designs, traditional cuts, and bohemian details. Lace is the most versatile wedding dress fabric out there: you can even opt for a sexy lace wedding gown.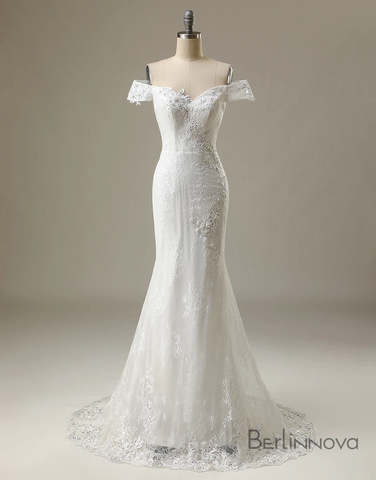 Style BLNYYDDZX0086
TEA-LENGTH WEDDING DRESSES
If you're looking for a retro-inspired wedding day look, look no farther than a tea-length dress. This is another versatile look that goes above and beyond civil ceremonies although they are what it's associated with most often. Most frequently, tea-length wedding dresses feature a nipped waist, full skirt, and feminine detailing like bows, lace, or beadwork. There are also ultra-minimal versions with impeccable cuts. Tea-length dresses reach just below the knees, making them perfect for women with long legs. Don't hesitate to show off those beautiful ankles – these dresses always reach just above them.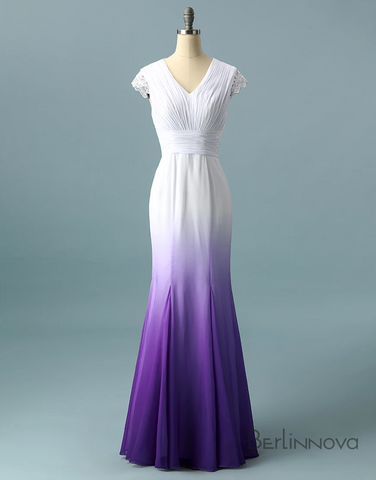 Style BLN03001399
SWEETHEART GOWNS
Sweetheart gowns and ball gowns are a wedding classic. A bride with a quirky fashion taste will love the natural waists and strapless pleated tulle skirts. Check out New York Dress' blog for some great ideas on styling these gowns.
DUST OFF THAT MEASURING TAPE
Now that you've settled on a style, it's time to take your measurements. All designers have measurement tables and guides with instructions for taking down your measurements on our website. We even have a video measurement guide to walk you through the process. This will ensure you get a gown exactly suited to your proportions for the best possible fit.
SHOP ONLINE
Now this is where the fun begins! Take your inspiration and start browsing around online. Look at dresses from a variety of designers to really help pinpoint what you're looking for in your dream dress. Create a list of the dresses you're drawn to and reach out to the store! 
One thing to keep in mind when shopping around online is reviews. Always look for online stores and boutiques that have reviews from previous customers. Reviews tell you everything you need to know when looking to purchase such an important gown!  
MAKE FINAL TWEAKS LATER
You may need to make a few tweaks when the dress arrives. Your priority should be finding the perfect dress. Once you've done that, you can talk to your stylist about shoes and other accessories, adjustments, and your veil (if applicable).
Reach out to your local seamstress or tailor about trains, hem length, and bustles. Many stores have a preferred list of vendors who can make adjustments if this can't be done in-house. Order a size up if in doubt because a tailor can always take something in, but rarely out. You'll also be prepared for unplanned last-minute weight gain. Be ready for alterations down the road to ensure a snug and comfortable fit. Alteration costs should factor into your overall wedding dress budget and usually run about 10% to 20% of the cost of the dress. 
FINAL THOUGHTS ON VIRTUAL DRESS SHOPPING
We live in unusual times. You are not alone in the realm of event planning against the backdrop of social distancing, but virtual shopping reflects a major future trend with or without distancing. Lots of brides are shopping for their perfect dresses digitally, and some are finding it more convenient than in-person store visits.