Homecoming is one of the best nights of the year, but a lot of planning and work goes into making it so special. If you're on the homecoming committee this year, you're probably getting ready to brainstorm a fun theme for the dance. With COVID-19 vaccinations underway, we will hopefully be held in person once again so get ready for an epic Homecoming night. You're going to want to find a fun theme to set the vibe for the night and help everyone get excited. Get inspired by these totally cool and unique homecoming themes, plus get all the supplies you need to make them happen. Now, all you need is to find a dress and you'll look as good as the backdrop.
Mamma Mia!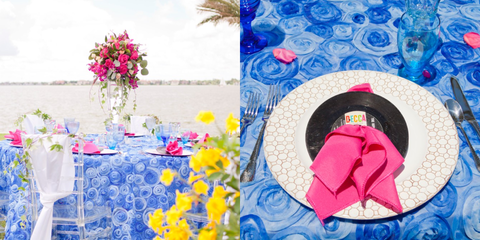 If you've been on TikTok lately, then you know a Mamma Mia! themed bash is a must for 2021. With inspiration from the musical Greek setting, bright blue hues, and vinyl records, your class will be partying like Donna and the Dynamos in no time.
Disney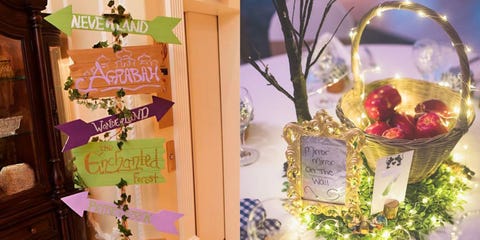 Turn your school's big night into a fairytale by making homecoming a Disney theme. Take inspiration from all of the classic Disney tales and your guests will feel like princes and princesses.
Bridgerton Ball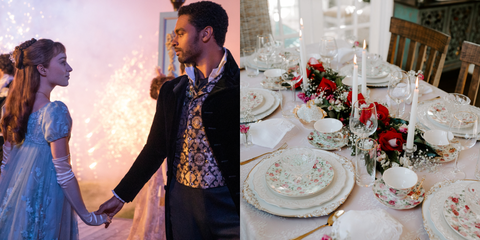 You don't need Lady Whistledown to tell you that Bridgerton has basically taken over the world (seriously — there's even a pop-up café in LA). If you burn for Bridgerton, whip out some floral china and taper candles. This theme will also give everyone an excuse to dress in gorgeous ballgowns and suits.
Superheros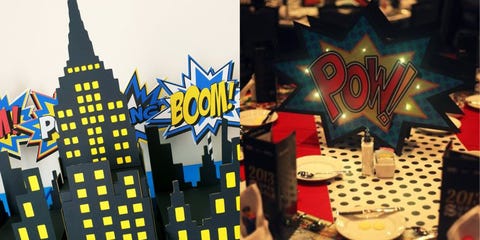 Who says Spiderman and Thor get to have all the fun? Turn your homecoming into a night straight out of the comic books and plan a colorful superhero-themed dance.
Night in Neverland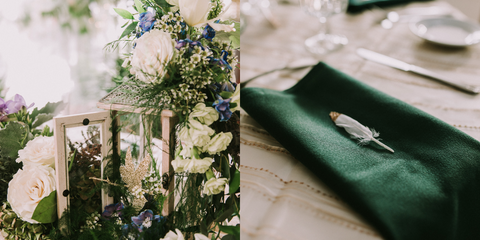 Join Peter Pan and the Lost Boys in Neverland with this whimsical theme. Decorate the space with tons of white feathers, fake plants, and garlands along with a green and gold color scheme. Bonus points if you manage to incorporate Neverland's favorite pixie, Tinker Bell into the decor.
Casino Royale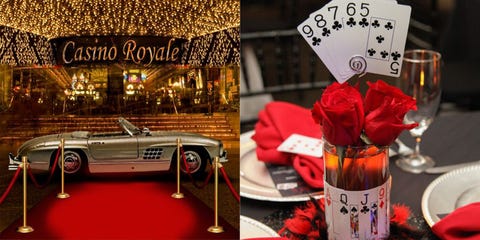 Tell the boys to grab their tuxes because a casino royale-themed homecoming will have everyone dressing to the nines! Set up some card games around the event (no gambling with actual money, of course), and deck out the gym with red and gold to really bring the luxe factor. Your guests will forget they're not in an actual casino.
Tropical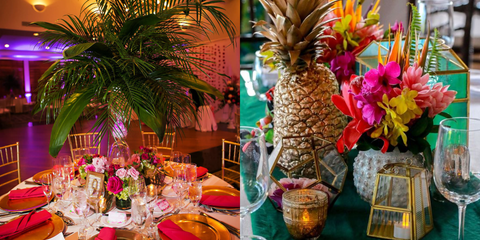 Although homecoming takes place in the fall, a tropical theme can bring back the heat. Bright colors, pineapples, and palm trees can make any place feel like an island. The only thing that's missing is the beach.
New York City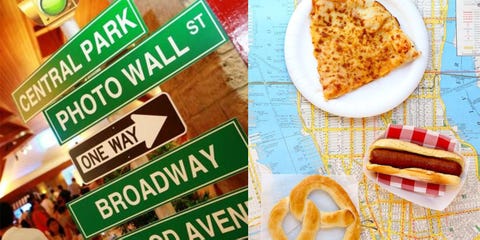 Bring the Big Apple to your high school with a New York City-themed dance. Decorate the gym with all of New York's biggest landmarks and DIY a skyline for a great photo backdrop. Stick with Manhattan classics like pizza and hot dogs for the food and all your guests will walk away with full stomachs and huge smiles.
Alice in Wonderland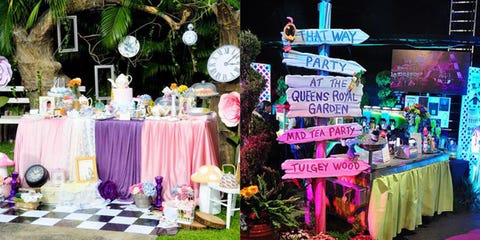 Send your guests down the rabbit hole with a whimsical Alice in Wonderland-themed homecoming. Get lots of clocks, mushrooms, and of course, tea cups for a magical night in Wonderland.
Disco Fever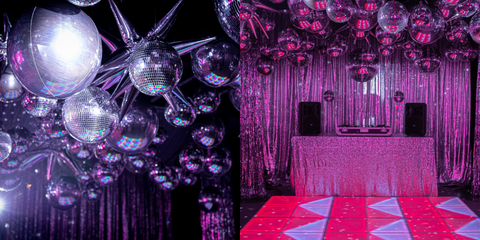 With stars like Dua Lipa and The Weeknd bringing back vintage sounds in music, it only seems fitting to match your HoCo vibe. Spruce up your space with colored lighting and 70s-inspired disco balls.
Broadway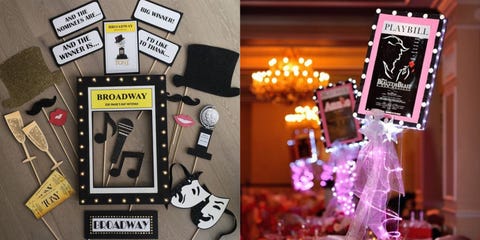 Bring the glitz and glamour of Broadway to homecoming and make all of your guests feel like stars. Don't skimp on the twinkly string lights and make sure to highlight all the Broadway classics in your decorations.
There's No Place Like Homecoming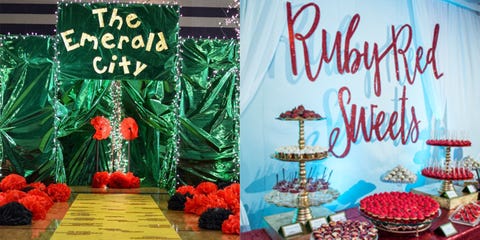 Break out the yellow brick road and all of the red glitter you can buy. A Wizard of Oz themed homecoming is unique, kooky and magical. Turn your gym into an emerald city by draping green fabric on the walls and DIY a big hot air balloon to pull the gym together.
Carnival Chic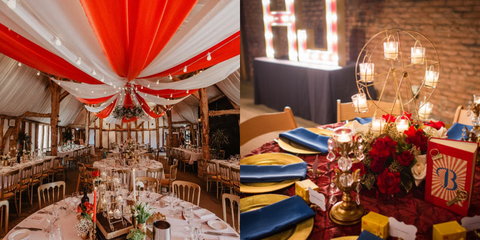 Alexa, play "Circus" by Britney Spears. Homecoming is one of the most fun events of the school year, and what's more fun than a circus? Not only can you bring on the stripes and primary colors with this carnival theme, but you can also include snacks like peanuts and cotton candy.
Paris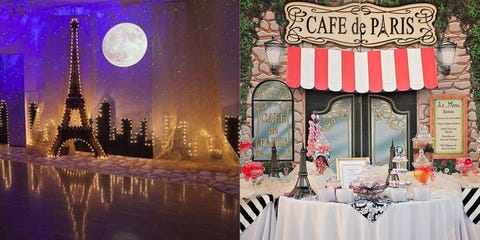 Amp up the romance with a Paris-themed homecoming. With a big Eiffel Tower at the center, the rest of the decorating will be easy. Just grab some strings of lights (because it's the city of lights, of course) and don't forget the French macarons!
Fairytale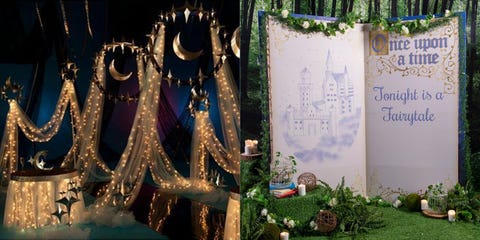 Your guests will feel like princesses and princes at this enchanted dance. Really pump up the romance with string lights and lot of flowers. When you crown the homecoming king and queen at the end of the night, make sure they have a proper throne to sit on.
Garden Party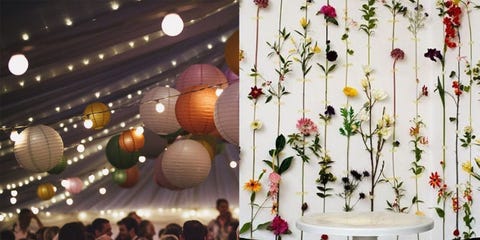 Get classy with a garden party-themed homecoming. Since real flowers can be expensive, stock up on some plastic ones and just go crazy! Use a pastel color scheme with green as the main color. If you're feeling extra whimsical, decorate the ceiling with umbrellas.
City of Stars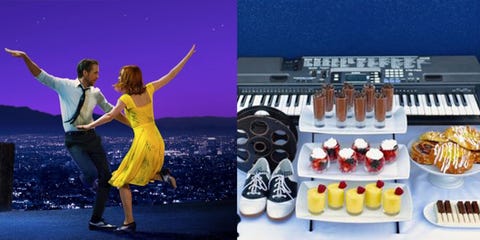 Instead of the traditional Hollywood-themed dance, go for a more retro twist and turn your gym into the set of La La Land. Use a dark blue and yellow color scheme with lots of sparkling lights, and of course, don't forget that piano!
Under the Sea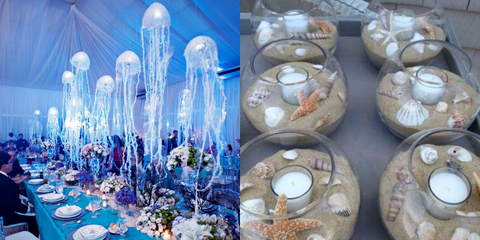 Completely transform your space with an under the sea theme. Drape the walls with blue fabric and put sand EVERYWHERE. Your guests will feel like they stepped into an aquarium. Use netting and fake shells as accents throughout the space and set up a giant conch chair for a fun photo op.
Halloween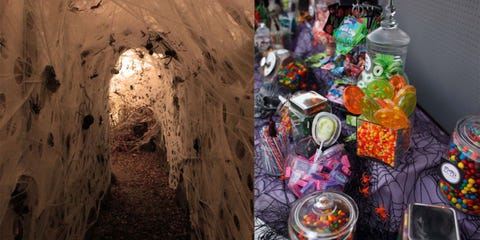 If you're feeling super spooky, go with a Halloween-themed dance! Make your guests enter the gym through a long corridor, decorated with spider webs and plastic critters to really build up the suspense. And don't forget the best part about a Halloween-themed party. A candy bar!
The Great Gatsby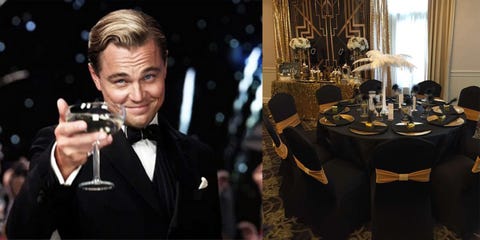 Between the glamorous backdrop of the 1920's and the beautifully tragic love story, it's no wonder The Great Gatsby is a go-to theme. Make it a costume party with flapper-inspired fashion, or let the decorations do the talking. Either way, don't skimp on the gold, balloons and sparkling cider, Old Sport!
Autumn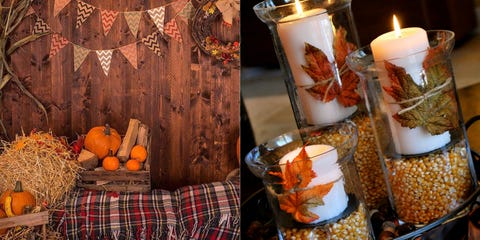 Embrace the season with an autumn-themed dance. Go with a burnt orange, brown and green color scheme, with lots of leaves and pumpkins to really make it feel like fall in your gym. The effect will be a super cozy, super fun night. And of course, don't forget the pumpkin spice treats!
Football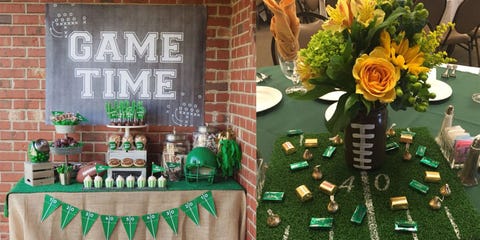 Homecoming is all about football, so why not keep the theme going with a fun, sporty dance! Celebrate your high school team (and hopefully their big homecoming win) with football treats and decorations in the colors of your school. Go team!
Candyland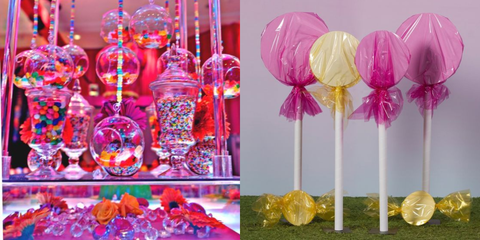 Your guests will be like kids in a candy store with this theme...literally! Between the bright colors and all that sugar, it's going to be the best homecoming ever. Give out little plastic bags at the end of the night so guests can fill up pick-and-mix bags for the way home. They will be thinking about the dance (and all that candy!) for the rest of the year.
Outerspace

Go intergalactic with a space-themed homecoming. Black out the gym by covering all the windows and gather up those string lights for a starry night. Stock up on lots of styrofoam balls in all different sizes and spray paint them for some DIY planets to hang around the room. Homecoming will be out of this world
Masquerade Ball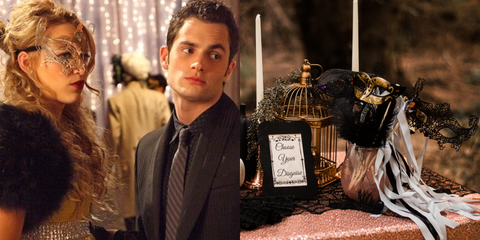 Just ask Serena, nothing says drama like a Masquerade Ball. Plus, who doesn't love a great summer transformation topped off with a reveal? Provide masks at the door and decorate the dance floor with jewel tones, candelabras and lots of glitter to make this homecoming a fabulous night of flair.